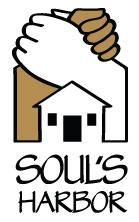 Soul's Harbor
Soul's Harbor is neither a rehabilitation facility nor a true homeless shelter.  Soul's Harbor could be categorized as a recovery home where men can learn tools to fight their addiction issues, or life affecting issues and live in a clean, sober and functional environment each day.
Below is a video that briefly describes the Soul's Harbor history and the men's recovery system that's implemented here. "…helping men help themselves and break the cycle of homelessness…"
---
Dispatch Representative/Main Contact Information:

Soul's Harbor, Inc.
13134 Nile Drive
Dallas, Texas 75253
972.286.1940
972.286.5282 Fax
contact@soulsharbordallas.org
---
New Online Donation Processing:
Soul's Harbor, Inc.
13134 Nile Drive
Dallas, Texas 75253
972.286.1940
972.286.5282 Fax
contact@soulsharbordallas.org
Soul's Harbor can now provide the convenience of taking your donation request online. Just follow the link to our new online "Household Donation Request Form". We are also now taking vehicle donations and have an online donation processing form for this too. "Vehicle Donation Request Form"