Turning Hate into Love…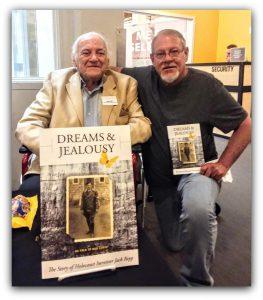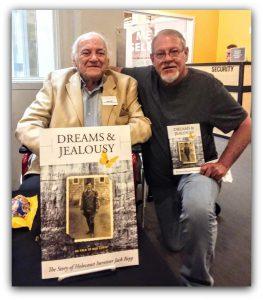 Hi, I am Tim and I'm an alcoholic. I have been sober and clean for over 4 years. That's me on the right with Jack Repp, a holocaust survivor. I will get to that part later in my story.
My story starts with my parents who were born in Ireland but moved to San Antonio and had 5 sons in Texas. I was the youngest. My Dad was a workaholic and was a provider financially but not there emotionally. Unfortunately, 3 of my brothers died in their early teenage years to muscular dystrophy. I was very close to my brother Sean and this was a devastating blow to me. My mother was distraught over the death of her 3 sons and was fighting depression. My Dad soon divorced my mom and I was left alone since my mom was not there for me. To fight the emotional pain, I started drinking at 13 years old. By 14, I was homeless and by 15, I was selling drugs to support myself. I was also shoplifting and breaking into cars and soon quit school. Lucky for me, a family took a liking to me and started to look after me. I got my life back in order, finished high school, and started attending Southwest Texas in San Marcos. I got married and was an absentee Dad like my father. I was drinking and started to do cocaine. Because of my drinking, I got divorced and then remarried again. I started to rack up the DWIs – had 4 and started to go to Alcoholics Anonymous (AA). I was 6 years clean and sober and got very complacent. Quit going to AA meetings, quit calling my sponsor, and quit hanging around my sober friends. One day, I decided to drink because I thought I could control it. The first day, I had 3 drinks, the second day I got really drunk and on the third day, I got my 5th DWI. I headed straight to Texas prison and got a 12-year sentence. I did 8 years and paroled to Soul's Harbor. Because of my upbringing and being in prison for so long, I developed racist ideas. At Soul's Harbor, they taught me about love and that we are all children of God – no matter race, creed, or sexual orientation. A couple of months ago, I went to the Holocaust Museum in Dallas to work on my racist tendencies. I met Jack Repp, a Holocaust survivor, and we clicked right away. I can also say that my best friend is Terry, a black man who I met at Soul's Harbor. Soul's Harbor has helped me reconnect with my family, land a great job and throw away my prejudice. Thank you Soul's Harbor for a life that I could never imagine.
---
For information regarding intake/admission into our recovery facility, please contact:
Dispatch Representative
Soul's Harbor, Inc.
13134 Nile Drive
Dallas, Texas 75253
972.286.1940
972.286.5282 Fax
Soul's Harbor Substance Abuse Program Questions and Intake
Please contact our intake Manager
Cell number 214-663-9684
contact@soulsharbordallas.org
---
New Online Donation Processing:
Soul's Harbor, Inc.
13134 Nile Drive
Dallas, Texas 75253
972.286.1940
972.286.5282 Fax
donate@soulsharbordallas.org

Soul's Harbor can now provide the convenience of taking your donation request online. Just follow the link to our online "Household Donation Request Form". We are also now taking vehicle donations and have an online donation processing form for this too. "Vehicle Donation Request Form"
To help Soul's Harbor financially you can donate by clicking the donate button.