Come to our Movie Premier
Have you ever been to a Movie Premier? Here's your chance to attend a movie premier and support Soul's Harbor Homeless Shelter. On Thursday evening, August 24, 2017 at 7 PM there will be a showing of the premier for "The Meanest Man in Texas" at the Angelica Film Center Dallas on Mockingbird Lane in Dallas. The price of the movie premier is only $20 a ticket which includes admission, hors d'oeuvres and following the movie – a Questions and Answers with author, producer, and director of this award winning movie. A few of the many awards of this real life redemption movie are:
Top Indie Film Awards Best Picture
Los Angeles Cinema Festival Best Script
International Christian Film Festival Best Picture
As an added bonus, 50% of your ticket price is tax deductible ($10 per ticket). This fund raising event will benefit our Capital Campaign fund which will increase our capacity of housing 60+ men to over 100.
Please note, there will be no tickets sold at the theater, so you must go to
this website and purchase your ticket:
Click on "Featured Products" to purchase your movie tickets

For film and production information please reference our Soul's Harbor Events page.
---
Great-Great granddaughters of a
Great Founder

This month, Soul's Harbor celebrates its 61st anniversary. In August of 1956, our great founder Jake Stembridge with the help of Ralph Whittle started Soul's Harbor. Pictured above are Jake's granddaughter, Jake's great grandson and Jake's great-great granddaughters. In the back row is Danny and Justin (Justin is a great grandson of Jake). In front of Danny is his wife Connie who is the granddaughter of Jake. Next to Justin is his wife Tanya. In the front row is Kendra and Kailey who are the great-great granddaughters of Jake and daughters of Justin and Tanya. They came all the way from Alberta, Canada to visit Soul's Harbor. A Big Soul's Harbor "Thank You" to Jake's family for visiting Soul's Harbor.
---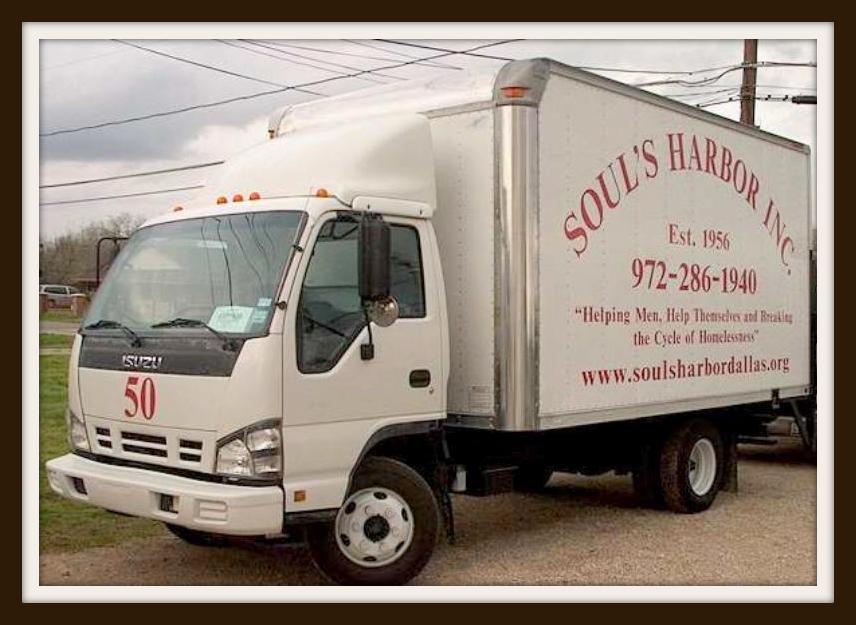 Soul's Harbor homeless shelter is supported solely by our four thrift stores. You can donate your household items via phone (972-286-1940) or our "Household Donation Request Form" page. We also take automobiles "Vehicle Donation Request Form". So if you have old clothes, furniture, appliances, household items, or even a car to donate to Soul's Harbor, either fill out our online form or call our dispatch office at 972-286-1940. Our dispatch office is open Monday through Saturday from 7:00 AM to 6:00 PM. We are sustained solely through our four thrift store sales. We rely on your donated items to support our shelter. At Soul's Harbor, we would like to thank all our customers that donate their items and also our thrift store customers. Because without our customers, there would be no Soul's Harbor.
Thank you and God Bless.


Brent Burmaster
Executive Director of Soul's Harbor Homeless Shelter
---
Dispatch Representative/Main Contact Number:
Soul's Harbor, Incorporated
13134 Nile Drive
Dallas, Texas 75253
972.286.1940
972.286.5282 Fax
contact@soulsharbordallas.org

---