CrossFit for a
Healthier Outlook

…



We are always improving our program at Soul's Harbor. Last month, we added CrossFit to our holistic approach to recovery. A Big Thank You to Ron Campbell and his team for providing twice a month Cross Fit classes at Soul's Harbor. Our guys love the class and get to "blow off steam" by doing various exercises. You can learn more about our holistic approach to substance abuse recovery, go to The Harbor Program.
---
A Decade at Soul's Harbor…
10 Years ago, I started my career at Soul's Harbor. I have been blessed with so many volunteers and the great guys that have come through the doors of Soul's Harbor. In fact, I have seen 1,214 men since I was hired in 2009. Our program at Soul's Harbor has dramatically changed for the better. 8 Years ago, we started modeling our recovery program after expensive treatment centers using a holistic approach. I want to thank God for bringing all the pieces together and molding our program as one of the best in the nation. I would like to thank my Assistant Director, Reggie Finch who arrived on the scene 9 years ago. Reggie (pictured above) came to Soul's Harbor as another homeless man but within weeks separated himself as a leader. Reggie has been my right-hand man ever since. Because of our program success, we have a long waiting list of potential residents that are eager to enter our doors. I also want to thank our board-of-directors which has the visionary outlook to address our growth potential. As I said in my first week on the job, "this is the best job I could ever imagine". It still holds true today. Thank you God for allowing me to serve you and the men at Soul's Harbor.
---
We need your help…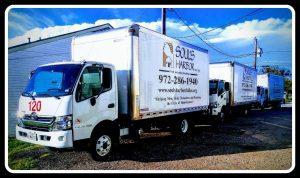 Soul's Harbor homeless shelter is supported solely by our four thrift stores. You can donate your household items via phone (972-286-1940) or our "Household Donation Request Form" page. We also take automobiles "Vehicle Donation Request Form". So if you have old clothes, furniture, appliances, household items, or even a car to donate to Soul's Harbor, either fill out our online form or call our dispatch office at 972-286-1940. Our dispatch office is open Monday through Saturday from 7:00 AM to 6:00 PM.
We are sustained solely through our four thrift store sales. We rely on your donated items to support our shelter. At Soul's Harbor, we would like to thank all our customers that donate their items and also our thrift store customers. Because without our customers, there would be no Soul's Harbor.
Thank you and God Bless.


Brent Burmaster
Executive Director of Soul's Harbor Homeless Shelter
---
Dispatch Representative/Main Contact Number:
Soul's Harbor, Incorporated
13134 Nile Drive
Dallas, Texas 75253
972.286.1940
972.286.5282 Fax
contact@soulsharbordallas.org

---
Thank you so much for your financial consideration. Note, your tax-deductible contributions may also be submitted through PayPal to donate@soulsharbordallas.org.*Please note: Users of Internet Explorer 8 and above may experience difficulties with our PayPal "Donate" button. Please access PayPal directly to make a financial contribution to Soul's Harbor, Inc. Thank you!