1,306 Pairs of Socks
A week before Thanksgiving, Soul's Harbor and Genesis Center of Kaufman received 1,306 pairs of socks from Scurry-Rosser Elementary School located in Scurry, Texas. Each one of the elementary school children collected new socks from their family and friends. On the right, holding the sock "check" is Pastor Nancy who runs the Genesis Center of Kaufman. The Genesis Center accommodates women and children affected by domestic violence in Kaufman County. A Big "Soul's Harbor" Thank you to Scurry-Rosser Elementary School and all the people who donated for our Thanksgiving dinner.
---
Soul's Harbor Health Fair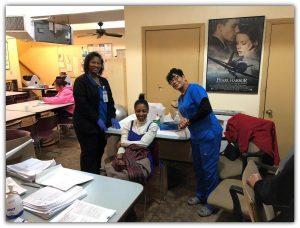 On November 12th, Soul's Harbor held its first ever Health Fair. We invited Parkland Hospital and Prevent Blindness. Our guys received free flu shots from Parkland Hospital and free eye exams from Prevent Blindness. For our residents that needed eyeglasses, they received free eyeglasses vouchers from Prevent Blindness. We also invited other homeless shelters and homeless providers to this event. Our kitchen crew provided dinner for everyone who attended. Pictured above is City of Dallas Judge Melodee Armstrong receiving her flu shot from the Parkland staff. Thank you Prevent Blindness and Parkland Hospital.
---
We need your help…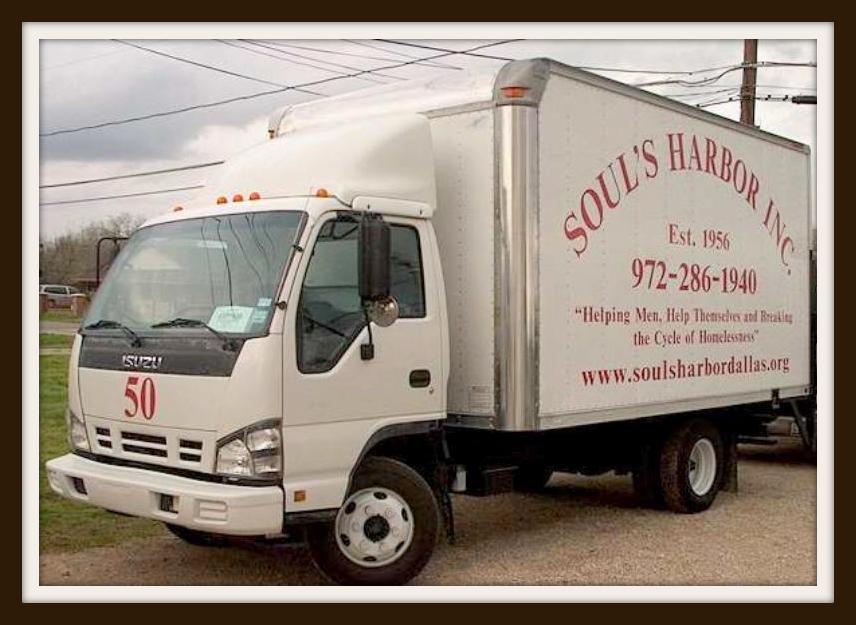 Soul's Harbor homeless shelter is supported solely by our four thrift stores. You can donate your household items via phone (972-286-1940) or our "Household Donation Request Form" page. We also take automobiles "Vehicle Donation Request Form". So if you have old clothes, furniture, appliances, household items, or even a car to donate to Soul's Harbor, either fill out our online form or call our dispatch office at 972-286-1940. Our dispatch office is open Monday through Saturday from 7:00 AM to 6:00 PM. We are sustained solely through our four thrift store sales. We rely on your donated items to support our shelter. At Soul's Harbor, we would like to thank all our customers that donate their items and also our thrift store customers. Because without our customers, there would be no Soul's Harbor.
Thank you and God Bless.


Brent Burmaster
Executive Director of Soul's Harbor Homeless Shelter
---
Dispatch Representative/Main Contact Number:
Soul's Harbor, Incorporated
13134 Nile Drive
Dallas, Texas 75253
972.286.1940
972.286.5282 Fax
contact@soulsharbordallas.org

---