Served our Country & now…is
"captain of his own ship"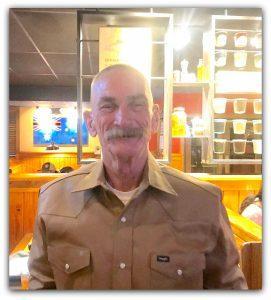 Hi, I am and I am a drug addict. On April 4, 2019, I will celebrate 5 years of being sober and clean. I am very grateful to Soul's Harbor and the cognitive part of its holistic program called "Owner of the Brain."
My journey began in Edinburg, Texas, where I grew up. We lived less than 20 miles from the US/Mexico border where my mom taught first graders in Edinburg. My dad worked for Sun Oil in South Texas. I was a rebel in high school and college in the 1970s. I attended Pan American University (PAU) and now called the University of Texas Rio Grande Valley. I pledged a fraternity, which is where I started smoking dope. I started smoking marijuana and then turned to cocaine because I loved the rush and the way I felt. Before long, my cocaine addiction took over and I would do anything to support my habit.
Living in the Rio Grande Valley provided an opportunity for me to make easy money transporting drugs from the border to cities across Texas thanks to my drug dealer's connections. In the drug world, I was called a "mule." I made good money until I was busted with 100 pounds of marijuana at the Falfurrias Border Patrol checkpoint. I was looking at a long prison sentence but as this was my first offense and the judge gave me the option of enlisting in the military rather than going to prison. It was an easy decision; I enlisted in the army. The judge hoped the military would "straighten me out" and it did. I served 3 years in the army supporting combat medics.
After my army assignment, I got a job working the oil fields. I met my wife and had two kids while working the oil fields for 12 years. However, a coworker introduced me to crack cocaine and my addiction returned. Before I knew it, I lost my job and my family. I was almost homeless, but my parents let me move in with them in Carrollton, Texas. I went to the Veteran Affairs (VA) to seek help with my cocaine addiction. I bounced from one VA facility to the next and struggled with sobriety. Finally, in 2014, the head doctor at the VA in DFW said I should try Soul's Harbor.
I followed his advice and went to Soul's Harbor but was very skeptical that I would get clean since I had tried 12 step programs many times before. However, the cognitive piece of Soul's Harbor program, "Owner of the Brain", intrigued me. I learned that my drug of choice was hijacking my brain and I was not the "captain of my ship." It was like a light bulb going off in my head. I was off my cocaine addiction.
However, my story does not end there. I traded my cocaine addiction for a "scratch off" lottery ticket addiction. What was once an occasional purchase of lottery tickets provided a rush like cocaine. I would walk miles to get lottery tickets. Then I retook "Owner of the Brain" class at Soul's Harbor and learned how my amygdala was reacting to lottery tickets. Today, I do not use drugs, drink alcohol, or buy lottery tickets. I am now the captain of my ship. I am thankful to both Soul's Harbor and Eddie Deen who teaches the "Owner of the Brain."
---
For information regarding intake/admission into our recovery facility, please contact:
Dispatch Representative
Soul's Harbor, Inc.
13134 Nile Drive
Dallas, Texas 75253
972.286.1940
972.286.5282 Fax
Soul's Harbor Substance Abuse Program Questions and Intake
Please contact our intake Manager
Cell number 214-663-9684
contact@soulsharbordallas.org
---
New Online Donation Processing:
Soul's Harbor, Inc.
13134 Nile Drive
Dallas, Texas 75253
972.286.1940
972.286.5282 Fax
donate@soulsharbordallas.org

Soul's Harbor can now provide the convenience of taking your donation request online. Just follow the link to our online "Household Donation Request Form". We are also now taking vehicle donations and have an online donation processing form for this too. "Vehicle Donation Request Form"
To help Soul's Harbor financially you can donate by clicking the donate button.