Welcome to Soul's Harbor…
"…Jake knew there was a better way, perhaps a "soul's harbor" where a man could stay for a spell, think and evaluate his life and maybe do something to make positive changes…"
---
Roger Siverson-Soul's Harbor Treasurer
With a very sad heart, we lost a very valuable board member last month in a tragic car accident. Roger Siverson was our board treasurer for over 8 years providing his thought leadership as our treasurer. Roger visited Soul's Harbor each week for the 8 years he served, making sure Soul's Harbor was on track financially. Roger was born in Houston, graduated from Southern Methodist University and was a "jack of all trades" – especially wood work, photography and bonsai trees. He is survived by his wife, Olivia; his son and daughter-in-law, Erik and Jenna Siverson; his daughter, Anna Siverson; his grandchildren, Zoe, Jonah, and Hope Siverson; and his sister, Judy Siverson. We will miss Roger dearly. We will see you in heaven.
---
Soul's Harbor's
Prison and Jail Connections
Some of the most important connections we have made over the past few years has been a strengthening of our ties with the criminal justice system. Soul's Harbor now has the capacity to take people directly from prison into our program through partnerships with the local probation and parole officers. We work with these offices to ensure our clients get the quality treatment they need, so that they do not reoffend and are able to live productive and healthy lives. Many of these men that we take from the jail and prison systems would be homeless, if Soul's Harbor did not exist. We have partnered with City of Dallas Drug Court, Dallas County Drug Court, Kaufmann County Drug Court, Unlocking Doors and Chains of Grace to take inmates directly from these various criminal systems to Soul's Harbor thus saving taxpayer dollars. With our 6 month program, coupled with our Exit Plan Strategy, we ensure a smooth transition for these former inmates from confinement to structured living to a full independent lifestyle.
---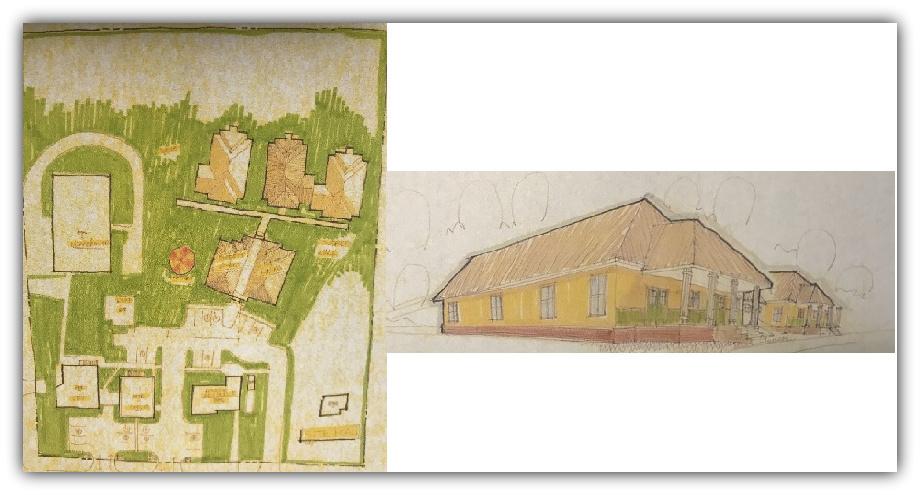 When I came to Dallas 9 years ago, appointed as Executive Director of Soul's Harbor, I was amazed at its long history of serving homeless men since 1956. But with its legacy, it comes with buildings that needs major renovation or complete replacement. Another issue we have encountered in the last 3 years, is that we are always full and there is a 3 to 4 week waiting period for our 66 beds. This is due to our cutting edge recovery model that takes a holistic approach to helping homeless men with substance abuse addiction.
To address both issues, we have started our Capital Fund Campaign. Pictured above is the proposed layout with a sketch of one of our four new dormitories. This will increase our capacity from 66 beds to over 100 beds. We also have plans to include a new kitchen / dining hall building along with complete renovations of our meeting halls, computer lounge and recreation room.
If you are interested in helping us, please visit our Capital Fund Campaign section on our website:
Also, we have included a short 5 minute video on the Capital Fund Campaign section of our website which will show you the current condition at Soul's Harbor. Every dollar helps. Please contribute and if you can not donate monetarily, please donate your household items by calling our dispatch office at 972-286-1940.
The men of Soul's Harbor greatly appreciate your time, your consideration and your pledge.
Thank you, for your support.
---
Reggie and Soul's Harbor on local Fox 4 News
Pictured above is our Assistant Director, Reggie Finch at his high school alma mater – Irving MacArthur. Reggie is to the far right with the black t-shirt. Reggie was there for Rock Bottom Outreach and telling his story to the entire high school football team. Tentatively, Reggie's story will air on local Fox News on a 15-minute segment called "In the Moment" on Friday, May 12th at 9:30 PM. Reggie told his story back in October of last year – from his high school football days at Irving MacArthur to being recruited by Oklahoma University then being homeless because of his drug addiction and finally his amazing recovery which started 7 years ago at Soul's Harbor.
Thank you, Fox 4 News for telling Reggie's story.
Watch Reggie's amazing story on our The Harbor Program Page.
---
Dispatch Representative/Main Contact Number:
Soul's Harbor, Inc.
13134 Nile Drive
Dallas, Texas 75253
972.286.1940
972.286.5282 Fax
---
New online donation processing:
Soul's Harbor can now provide the convenience of taking your donation request online. Just follow the link to our new online "Household Donation Request Form". We are also now taking vehicle donations and have an online donation processing form for this too. "Vehicle Donation Request Form"