Welcome to Soul's Harbor…
"…Jake knew there was a better way, perhaps a "soul's harbor" where a man could stay for a spell, think and evaluate his life and maybe do something to make positive changes…"
---
Dancing with The Soul's Harbor Star…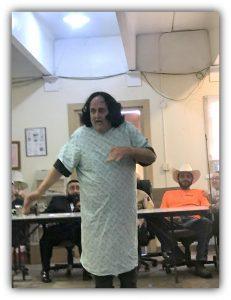 Each Spring, Soul's Harbor holds it's annual Talent Show contest. This highly anticipated event, has all of our residents laughing and hollering. This year's talent show was no exception. Eith 7 different acts, ranging from comedy to instrumentals to singing to impersonation. By far this was our best talent show. Our winner was Robert with his nimble dance moves and unique costume design. Robert came in 2nd place last year but improved on his act this year. Congratulations to our own Fred Astaire, Robert, who won the $50 Grand Prize and got his name on our annual Talent Show plaque.
---
Dental Care – Part of our
Holistic Approach to Recovery…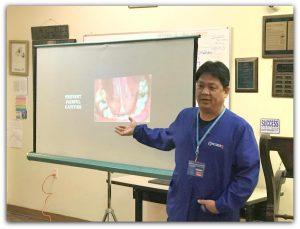 A Big "Soul's Harbor" Thank You to the Dental Hygienists from Concorde Career College in Dallas, who came out and had a very informative class on dental care. In the picture above, Charles from Concorde Career College explains tooth cavity prevention. There were many dental care questions from our residents that the Dental Hygienists answered. Concorde Career College provided each resident with a toothbrush, floss, and toothpaste. We really appreciate them coming out and spending the evening with us.
---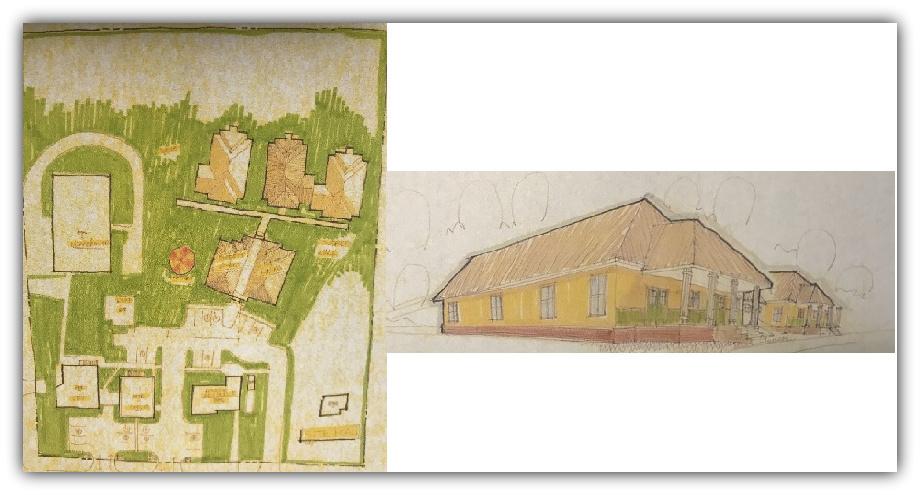 Current Funds Raised = $39,870.00
When I came to Dallas 9 years ago, appointed as Executive Director of Soul's Harbor, I was amazed at its long history of serving homeless men since 1956. But with its legacy, it comes with buildings that needs major renovation or complete replacement. Another issue we have encountered in the last 3 years, is that we are always full and there is a 3 to 4 week waiting period for our 66 beds. This is due to our cutting edge recovery model that takes a holistic approach to helping homeless men with substance abuse addiction.
To address both issues, we have started our Capital Fund Campaign. Pictured above is the proposed layout with a sketch of one of our four new dormitories. This will increase our capacity from 66 beds to over 100 beds. We also have plans to include a new kitchen / dining hall building along with complete renovations of our meeting halls, computer lounge and recreation room.
If you are interested in helping us, please visit our Capital Fund Campaign section on our website:
Also, we have included a short 5 minute video on the Capital Fund Campaign section of our website which will show you the current condition at Soul's Harbor. Every dollar helps. Please contribute and if you can not donate monetarily, please donate your household items by calling our dispatch office at 972-286-1940.
The men of Soul's Harbor greatly appreciate your time, your consideration and your pledge.
Thank you, for your support.
---
Reggie and Soul's Harbor on local Fox 4 News
Pictured above is our Assistant Director, Reggie Finch at his high school alma mater – Irving MacArthur. Reggie is to the far right with the black t-shirt. Reggie was there for Rock Bottom Outreach and telling his story to the entire high school football team. Tentatively, Reggie's story will air on local Fox News on a 15-minute segment called "In the Moment" on Friday, May 12th at 9:30 PM. Reggie told his story back in October of last year – from his high school football days at Irving MacArthur to being recruited by Oklahoma University then being homeless because of his drug addiction and finally his amazing recovery which started 7 years ago at Soul's Harbor.
Thank you, Fox 4 News for telling Reggie's story.
Watch Reggie's amazing story on our The Harbor Program Page.
---
Dispatch Representative/Main Contact Number:
Soul's Harbor, Inc.
13134 Nile Drive
Dallas, Texas 75253
972.286.1940
972.286.5282 Fax
---
New online donation processing:
Soul's Harbor can now provide the convenience of taking your donation request online. Just follow the link to our new online "Household Donation Request Form". We are also now taking vehicle donations and have an online donation processing form for this too. "Vehicle Donation Request Form"